Why do people choose Packard International?
Technical Excellence:
Packard International drill stem products are built to meet or exceed industry standard specifications.
Cost Effectiveness:
Because Packard International has less overhead costs than many of its competitors and management of resources is extremely efficient, Packard can offer extremely competitive pricing.
Reliability:
Packardís stringent quality control, computer and real-time testing ensure that each drill string product will meet or exceed field requirements.
Outstanding Service:
At Packard International, we pride ourselves on a personal approach to service. You can always count on us to be there when you need us.
Speedy Delivery:
Packard International understands that downtime is one thing you really donít need. Thatís why Packard offers much faster delivery times than most of our competitors.
Engineering Flexibility:
Our products are tailored to your drilling needs. If you need it, we can make it.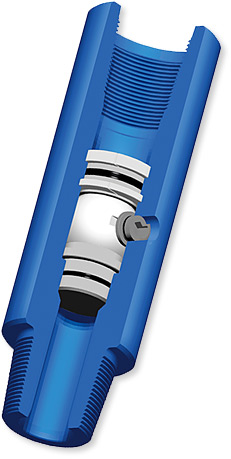 Driven to Succeed.



Recently listed as one of Houstonís 100 fastest growing companies by the UH Small Business Development Center, Packard International attributes its meteoric rise in success to an unwavering commitment to customer satisfaction. Packard International strives for excellence in every aspect of its business, from its highly qualified staff to its state-of-the-art machining equipment.



Starting Small. Thinking Large.



When R. W. Nabors opened his small machine shop in 1975, little did he imagine that the company that began in a garage in Conroe, Texas would become respected internationally for the quality of its drill stem safety valve products. Since incorporating as Packard International in 1983, the company has expanded into a 12,000-square-foot precision manufacturing facility.



Looking to the Future.



Not satisfied with merely meeting standards, Packard International designs and manufactures its own line of innovative drill stem products that include kelly and safety valves, top drive valves, drop-in check valves, cup testers, rotary subs, and inside blowout preventers. Packard International is known for products that not only do the job, but do it with added reliability andefficiency.



Respecting the Past.



In addition to Packard Internationalís own innovative products, in March of 2004, Packard became the sole producer of OMSCOís line of kelly valve products. Now the valves that set the standard by which all other kelly valves have been judged since 1945 are available exclusively from Packard International.



Continued Commitment to Quality.



Packard Internationalís customers work in an industry that demands a lot of them, and they demand a lot of their equipment. Thatís why, in an ongoing effort to provide more capacity, capability, and repeatability, Packard Internationalís highly trained programming technicians, machinists, and engineers utilize only the latest software and precision machining technology to manufacture its products.



See What Weíre All About.



Packard Internationalís facilities are located in a wooded community just north of Houston. The comfortable, relaxed atmosphere offers customers the perfect opportunity to discuss their equipment needs away from the stress of the city. We invite you to visit us today to learn how Packard Internationalís drill stem products can improve your operation.