Packard International Products

Certificate Portal

Contact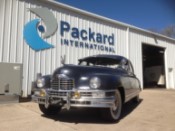 Tradition & Technology
No we don't produce the car, but our name is derived from the motorcar company proud enough of their product to adopt the slogan, "Ask the Man Who Owns One".

Driven to Succeed
Packard International, Inc. began as a garage machine shop outside Houston in rural Montgomery County in 1975, incorporating in 1983. Packard has been producing its branded line of Drill Stem Safety Valves for over 30 years.

Since the acquisition of OMSCO in 2004, Packard has expanded its business ten-fold, and leads the industry globally in the most demanding markets, and the harshest drilling conditions.

Now an established designer and manufacturer, Packard supplies the industry with Top Drive Valves, Kelly Valves, Internal Blowout Preventers (IBOP), Drop-in Check Valves (DICV), and Type 'F' Cup Testers.

We are also innovators, creating new products and partnering with industry technology leaders to improve drilling efficiency and reduce downtime.

With our ultra-precise machining capabilities, Packard provides specialized machining services for top drives components, drill string subs, and a variety of drilling equipment at our 20,000 sq ft facility, still in rural Conroe.